Tatarstan leads the ranking of Russian regions in terms of achieving the Sustainable Development Goals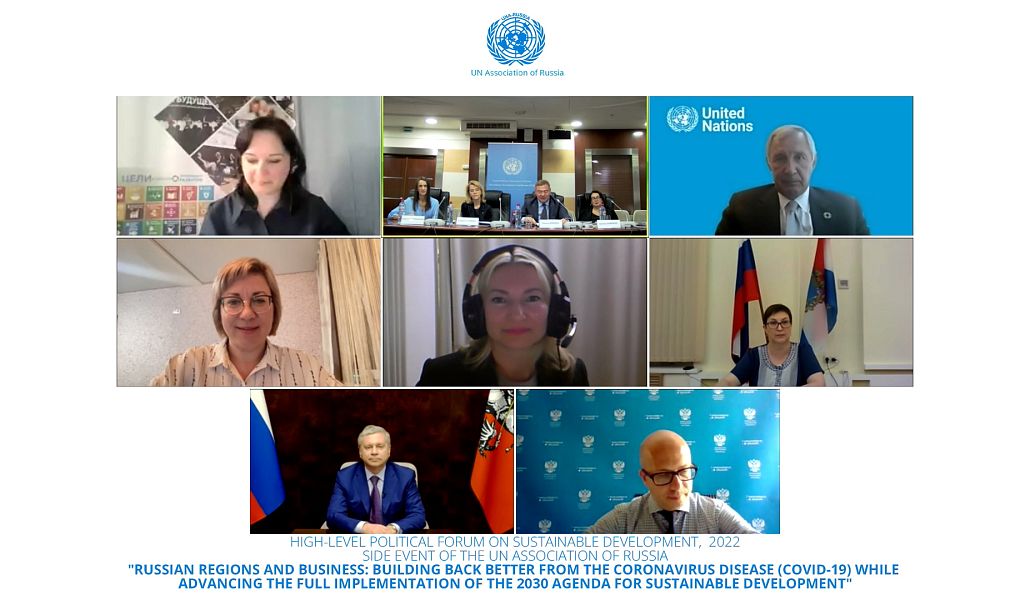 According to the MGIMO pilot analysis, the republic is a leader in environmental improvement achievements. Professor Turbina spoke about this at a side event of the UN Global High-Level Forum on Sustainable Development 2022.
At the session of the Russian Association for UN Assistance, the regions of Russia that have passed the project "Regions of Russia and the UN Sustainable Development Goals" spoke about new achievements. Tatarstan was represented by Deputy Head of the Agency Marina Epifantseva. She noted that according to the National rating of the state of the investment climate of the constituent entities of the Russian Federation, the Republic of Tatarstan took second place this year, losing only to the capital. The region also made a serious breakthrough in the development of public-private partnerships, rising from 67th place to 6th place in a year. Marina Epifantseva recalled that in 2018 the Republic of Tatarstan received an award from UNCTAD for a project in the field of public-private partnership. The speaker paid special attention to the development of small and medium-sized businesses, as well as the institution of the self-employed both in the Republic of Tatarstan and in the country as a whole. She outlined the significance of this trend, including for the development of the social sphere. Concluding her speech, Ms. Epifantseva drew attention to the fact that in 2022 Kazan is the youth capital of the Organization of Islamic Cooperation (OIC), and invited the participants and audience of the meeting to the OIC Youth Forum, which will be held in Kazan in September this year.
On July 13, 2022, within the framework of the UN High-Level Political Forum on Sustainable Development (HLPF-22), held under the auspices of the Economic and Social Council (UN ECOSOC), the event of the Russian United Nations Association (UN RAS) "Russian Regions and Business: Building back better from the coronavirus disease (COVID-19) while advancing the full implementation of the 2030 Agenda for Sustainable Development." The event was held with the support of the Russian Ministry of Foreign Affairs, the Permanent Mission of the Russian Federation to the UN in New York and the National Global Compact Network Association. The information partner was the UN Information Center in Moscow. According to the rules of the HLPF-22, the event was held online, while its moderation was carried out from MGIMO University.
The meeting was aimed at exchanging experience with foreign actors in the implementation of sustainable practices, presenting the experience of Russian regions and business, and also contributed to the development of cooperation centered around a new form of multilateralism and regional interaction, which is especially important in the new economic realities. Among the participants of the event were representatives of the regions, diplomatic structures, international organizations, business, academy and the non-governmental sector.
13.07.2022