17.07.2019
The new construction chemicals plant opened in Tatarstan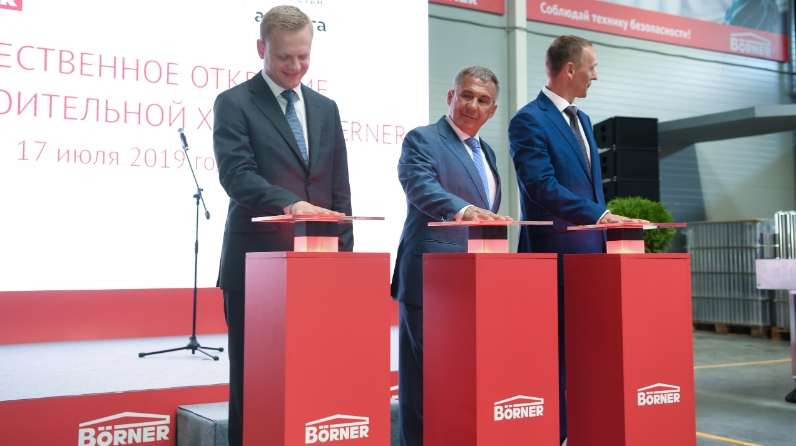 The Alabuga SEZ hosted the official opening ceremony of the Boerner Innovative Construction Chemicals Plant in which Pavel Servatinsky, the Director of the Metallurgy and Materials Department of the Ministry of Industry and Trade of Russia, Rustam Minnikhanov, the President of Tatarstan, and the heads of republican ministries and departments took part.
The German brand is known for its high quality and holds a strong position among the professionals of the Western Europe construction market. The new enterprise will contribute to the development of the market of construction chemicals, including the export destinations. The outstanding features of the plant are the high-precision equipment, own production of a key component and the Research Center.
The owner of Boerner is the co-owner of Technonicol Sergey Kolesnikov. Technonicol is one of the largest international manufacturers of construction materials closely cooperating with the Republic of Tatarstan. Thus, in October 2007, the TECHNO Plant was launched in Zainsk, which became the first production site in the republic to produce the rock wool based heat-insulating materials.
"The volume of investments in the construction of the first stage of the Boerner Construction Chemicals Plant amounted to 650 million rubles. The production capacity is 10 thousand tons of finished products. Within three years it is planned to launch the second line and increase productivity up to 20 thousand tons. We are confident that our cooperation will be fruitful for both parties. Good luck!" wished Taliya Minullina, the Head of the Tatarstan Investment Development Agency.
"It's comfortable to work here, the investors are treated kindly. I am sure that the plant will take a worthy place on the Russian market of construction chemicals," said Sergey Kolesnikov.