18.09.2018
Modern engineering systems. Architecture of Health (Modern Engineering System – MES)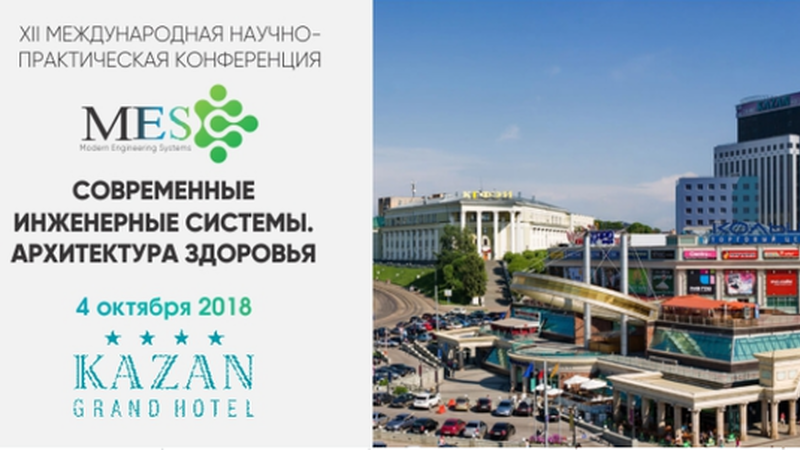 On October, 4 2018, scientific and practical conference "Modern Engineering System. Architecture of Health (MES)" will take place in the capital of Tatarstan.
Hospital architecture and design have changed significantly over the past half century, transforming from strict rooms with sterile white monotonous walls into quirky fascinating architectural forms with carefully designed interior. Although the architecture of medical institutions is quite conservative, architects are able to apply innovative planning solutions in this field as well. In recent years, higher attention has been given to the creation of comfortable environment conducive to efficient work of the medical staff and rapid recovery of the patients. The MES conference is the only site in the Russian market that brings together high-level experts in the field of architecture, construction and reconstruction of healthcare facilities.
The venue is no accident. Tatarstan is a dynamically developing region with well-developed health care system. Lifetime increase and development of medical system are one of the key themes of the Strategy of social and economic development of the Republic of Tatarstan until 2030.
The organizer of the event is Tatarstan Investment Development Agency together with the State Autonomous Healthcare Institution "Interregional Clinical Medicine Center" with the support of Kazan State University of Architecture and Engineering.
"The key difference of MES conference is its qualitative content and world-class experts from Europe and the United States. Detailed analysis of implemented health facilities in different countries aimed at exchange of world and Russian experience in designing, creation of the unified knowledge site for architectures and designers, as well as training of local experts in the development of the medical infrastructure are the basic aims of the event!" - the Head of Tatarstan Investment Development Agency Taliya Minullina.
The first conference was held in 2006. During the 12-year history, the project has been accelerating. In 2017, the event brought together 350 Russian architects and designers, clinic executives, representatives of relevant organizations and suppliers from Germany, Sweden, France, the Netherlands, Singapore and Russia, including 20 world-class experts.
MES 2018 will bring together the leaders and departments in the health care sector, investors, architects and project organizations, heads of clinics and medical centers, representatives of the ministries aimed at exchange of experience in design, construction and reconstruction of healthcare facilities and public spaces. This year the program of event includes the sessions devoted to development of medical infrastructure in the Republic of Tatarstan and Russia as a whole, to role of information technologies in medicine and other issues. The event will take place in "Grand Hotel Kazan"
Information about participation as well as the program of the event are available at http://meskazan.ru/
The organizing сommittee of the conference: +7 843 570 39 93, Guzal.Bikanacheva@tatar.ru