24.07.2019
Russian-American Business Mission to the Republic of Tatarstan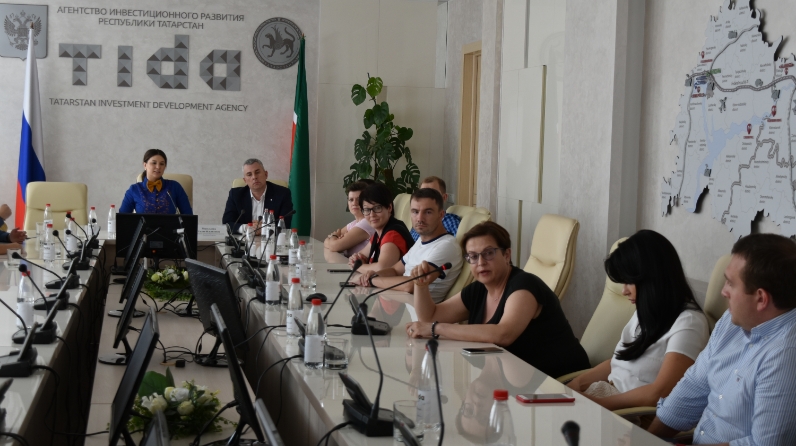 The Association of Industrial Parks and the American Chamber of Commerce in Russia visited Tatarstan with a business mission. At Tatarstan Investment Development Agency the delegation led by the Vice-President for Government Relations of AmCham Natalia Schneider was presented the conditions for doing business and localizing production in the region, the head of the Agency Taliya Minullina shared her experience of working with foreign companies.
"I hope that our cooperation will become stronger, and we will be able to organize such events on a regular basis, because the more often people see with their own eyes what is happening in the regions of Russia, and Tatarstan today is ahead in many ways, the better it will be for our economy and partners", - said Talia Minullina in a welcoming speech.
In Russia, the CIS countries and on the world stage, the region leads in many respects. First of all, it concerns the investment climate, formed in the republic. "We have the stability of government, we keep agreements and promises we give each investor at the entrance, and we closely monitor they are fulfilled by all investment activity subjects, by each party involved in the investment process," the Agency head emphasized.
Investors from the United States are well aware of this. In 2018, the USA took the first place in volume of investments in projects in Tatarstan. On the question of how sanctions and the political situation in the world affect the implementation of projects with foreign countries, the head of the Agency clearly separated politics and economics and noted that no company had ceased its activities in Tatarstan under similar circumstances.
Tatarstan Investment Development Agency works on the principle of "one window"; individually, for each project, the best conditions for its implementation are selected: industrial sites, offices, partners, financial models, government support measures, a strategic interaction plan is developed, etc.
During the visit, the joint delegation also visited the industrial sites of the special economic zone "Alabuga" and directly the productions of the AmCham member companies: "3M Volga" and "Ford Sollers Yelabuga", as well as other key industrial and investment sites, such as the Kamsky industrial park "Master", Technopolis "Himgrad" and its residents as "Implant" (production of titanium implants for osteosynthesis), "TEMZ" (production of polyvinyl chloride profile for aluminum profile systems), Regional Engineering Center of Biotechnology of the Republic of Tatarstan (business engineering and consulting support) and "Danaflex-Nano" (market leader in production of flexible packaging in Russia and the CIS).
In the framework of the strategic session in the technopolis, prospects for the development of the industrial parks industry and the objectives of the Association for three years were discussed, taking into account the potential of the participating organizations.