Kazan-Moscow-AmCham: the right way!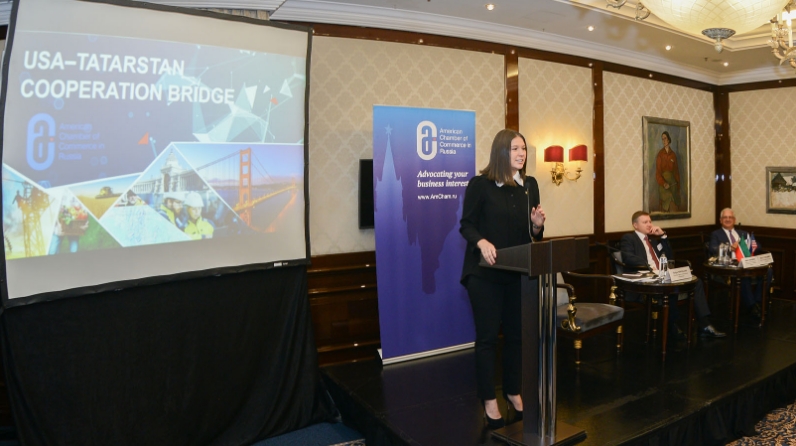 The delegation of the Republic of Tatarstan paid a working visit to the Russian capital.
The Vice-President of the World Federation of UN Associations Alexey Borisov took part in the negotiations on the development of cooperation between Tatarstan and the United Nations. The UN supports the development of the region. Last year, the Investment Development Agency won the United Nations Award for outstanding achievements in the promoting investments into the sectors that are to bring social and economic benefits and help countries to achieve their sustainable development goals.
As part of a business visit, the industrial and investment potential of the Republic of Tatarstan was presented in the American Chamber of Commerce in Russia. The chamber represents the interests of major American corporations, the Russian companies, and the companies from Europe and Asia. The AmCham's President Alexis Rodzianko was the moderator of the event.
The Head of the Tatarstan Investment Development Agency Taliya Minullina revealed insights into the economics and features of doing business in Tatarstan to the business community.
"Despite the crisis, we manage to maintain a stable dynamics of economic growth. GRP is growing. The petrochemical sector is developed. Tatarstan produces half of the polymers of the country, last year – 33% of the Russian rubber. The region has developed industry. We hold a leading position in agriculture. The trends in import substitution can be seen," said Taliya Minullina in her speech.
Tatarstan is a leader among the regions of Russia in terms of the investment climate index.
"We position Tatarstan as an entry point to the Russian market for the international companies. At the same time, we are interested in both medium and small businesses. The fact that we have sister cities shows that there is a cooperation at the municipal level. The American business is successfully represented in Tatarstan by such companies as 3M, Ford, Ramada, IBM, PWC, Armstrong, and others. We will work to expand the business community. For this we have created all the conditions: the developed infrastructure – 85 industrial parks, and moreover, Tatarstan is the only region of Russia that has 7 zones with federal tax benefits," said Taliya Minullina.
The expert of the Innopolis Special Economic Zone, Vadim Galeev, told members of the American
Chamber of Commerce in Russia about the special economic treatment in the
territory of the first Russian city for IT experts. The representative of ZM
Russia Company Alexander Cherepanov showed the history of the Tatarstan success
of ZM Russia. The international manufacturing corporation combines solutions in
the area of electronics, energy, health, safety, industry and consumer goods.
12.09.2019