Tatarstan and Slovakia sealed the mutual interests by executing a variety of cooperation agreements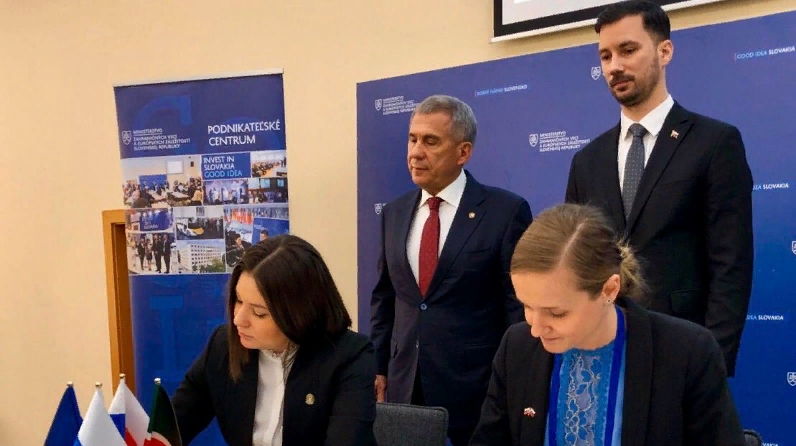 A delegation of Tatarstan headed by Rustam Minnikhanov, the President of the Republic of Tatarstan, had a working visit to the capital of the Slovak Republic.
A business forum "Tatarstan-Slovakia" took place involving public officials and managers of leading local companies. First, the Secretary of State of the Ministry of Foreign and European Affairs of the Slovak Republic, Lukáš Parízek expressed his gratitude. Rustam Minnikhanov also showed his appreciation to the management of Russia and Slovakia for supporting joint projects and initiatives. During 2018, the commodity turnover between Tatarstan and Slovak Republic grew and amounted to USD 500 Mio. To develop the trade and economic relations, a cooperation agreement was executed between the Slovak and the Tatarstan chambers of commerce and industry in margins of the forum.
The investment potential of the region and the opportunities to expand the Tatarstan-Slovak business community were presented by Taliya Minullina, the Head of the Tatarstan Investment Development Agency. The parties sealed their mutual interests by executing the Cooperation Agreement between the Tatarstan Investment Development Agency and the Slovak Agency for Investments and Trade Development.
"We are happy to facilitate the development of the Russian-Slovak relations. Prospective fields for the interaction are the cooperation in the field of the automobile construction, oil processing and petrochemicals, machine-building, tyre manufacture, energy preservation, IT, and construction. We invite representatives of the Slovak business to come to Tatarstan. Our region has created the best conditions to implement successful projects. We are willing to provide a comprehensive support on our part," Taliya Minullina noted.
As a part of the business trip, the delegation also familiarized themselves with activities of the SlovNAFT refinery and conducted negotiations with managers of the group of companies.
The means to expand the trade, economic and investment cooperation were discussed at the meeting with Peter Žiga, the Minister of economy of the Slovak Republic. Rustam Minnikhanov invited him to visit Tatarstan as a head of the delegation of the Slovak business circles for a more detailed familiarization with the opportunities for the mutually lucrative cooperation.
As a part of negotiations with the Chairman of the Parliament (National Council) of the Slovak Republic, Andrej Danko, the parties also discussed the matters of the further development of the relations between Tatarstan and Slovakia.
12.12.2019