09.11.2017
The Heads of Russian entities will attend the first Volga Federal District Forum on Public-Private Partnership in Kazan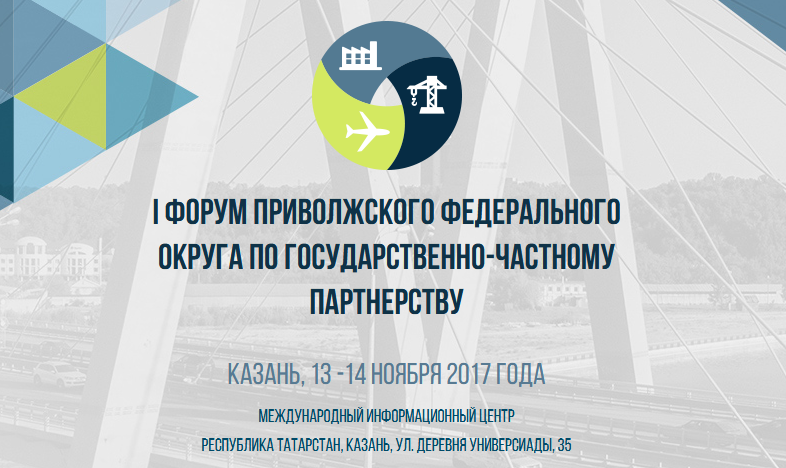 In Kazan on November 13-14, the first Volga Federal District Forum on Public-Private Partnership will be held on the territory of the Universiade Village.

It will be attended by the President of the Republic of Tatarstan Rustam Minnikhanov, the Governor of the Samara region a.i. Dmitriy Azarov, Executive Director of the National Center of PPP Maxim Tkachenko. In addition, the Governor of Orenburg Region Yuri Berg, the Governor of Ulyanovsk Region Sergey Morozov confirmed their participation.

Among the key issues of the Forum are new mechanisms of pre-project funding, the role of supranational and regional development institutes in the preparation of PPP projects. At the Forum's sites the conditions for comfortable institutional environment in the sphere of PPP will be discussed. The event was organized by Tatarstan Investment Development Agency and National Center of Public-Private Partnership supported by the Federation Council and the Agency for Strategic Initiatives.

In the frames of the Forum infrastructure projects planned to be implemented on the territory of Volga Federal District will be presented to the investors. The most promising projects will receive recommendations on improvement by the leading specialists of the industry and also will be included in the support program of the project initiatives aimed at assistance to prospective PPP projects in attracting pre-project funding and potential partners.

The direct dialogue between the participants of the forum will allow to define the key steps needed to stimulate the growth of non-state investment in the Volga Federal District infrastructural projects. In particular, in the frames of plenary discussion, the experts will discuss the priority PPP projects in VFD, the impact of the federal megaprojects on formation of infrastructural frame, the problems of budget co-financing and the key aspects of pre-project preparation. The outcome of the session will be formulated as suggestions to improve the Strategy of the social and economic development of Volga Federal District, and also will become the base for preparing the application to the Government of the Russian Federation on implementation of additional measures to stimulate the application of PPP mechanisms in Russia's entities.

The main provisions of «infrastructural mortgage» program, innovations in legislation governing concessions and PPP, contradictions in the judicial practice, practical aspects of the implementation of projects in transport, social and communal spheres, prospectives of PPP implementation in digital economy and potential of blockchain technology are in the focus of participants' attention. During the second day of the Forum, PPP-Institute with the support of Sberbank will hold educational program in the format of proprietary master classes and business games. Participation in the event is free. A detailed program and registration are available at forumpfo.ru.