25.10.2017
Tatarstani start-ups will be accelerated in the Silicon Valley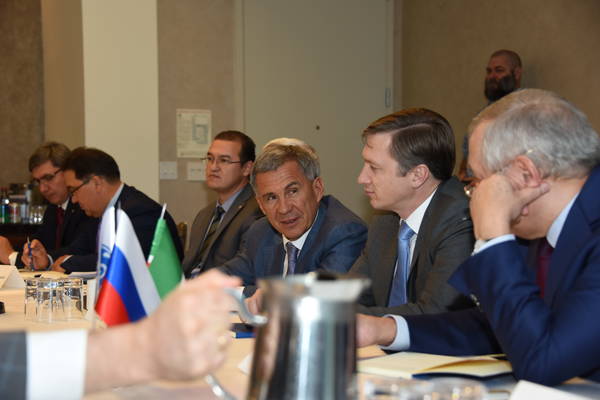 The Head of Tatarstan Investment Development Agency Talia Minullina with her Americans partners organized the «The Global Technology Symposium. The Commonwealth Club «spotlight on Tatarstan» held on October 24 in San Francisco. The symposium was attended by the President of Tatarstan, Rustam Minnikhanov, within the framework of the working visit to the United States.

Within the framework of the Global Symposium, the main technological trends were announced, now relevant for the Silicon Valley. Ilyad Terra, General Director of Alfa8, Ilyad Terra, Director General of Surfdash, Inc, Jenna Kelly, founder of the Gagarin Capital Foundation Nikolay Davydov, co-founder of Ava Winery Alec Li, co-founder of EWI Zak Zhang and other top managers of the largest technological companies of the USA held the speeches before the guests from Tatarstan.

The plenary session of the symposium was attended by the President of Tatarstan Rustam Minnikhanov, one of the founders of venture capital Silicon Valley Dick Kremlich, as well as the founder of the Global Technology Symposium, Alexander Johnson.

Subjects such as artificial intelligence, robotics, cyber security, Hyperloop, Internet of things, telemedicine were discussed.

Ten promising Tatarstan startups were given the opportunity to participate in the acceleration program in the USA, and also to present their projects at the symposium. Projects were selected from local resources: IT Park, Innopolis.

The possibilities of using telemedicine technology and innovative methods of treatment and control of diabetes in Tatarstan clinics were discussed within the framework of the event. Also at the symposium site, the influence of innovation centers on the development of world economic systems was considered.

In the course of the meeting, the Tatarstan's delegation met with representatives of the Commonwealth Club, the management of Torrey Pines Investment, Ernst & Yong, Alfa8, EdgeWater Investments, General Electric company's President John Flanery among others.