06.07.2018
Tatarstan Investment Development Agency is intended to cooperate with Astana International Financial Center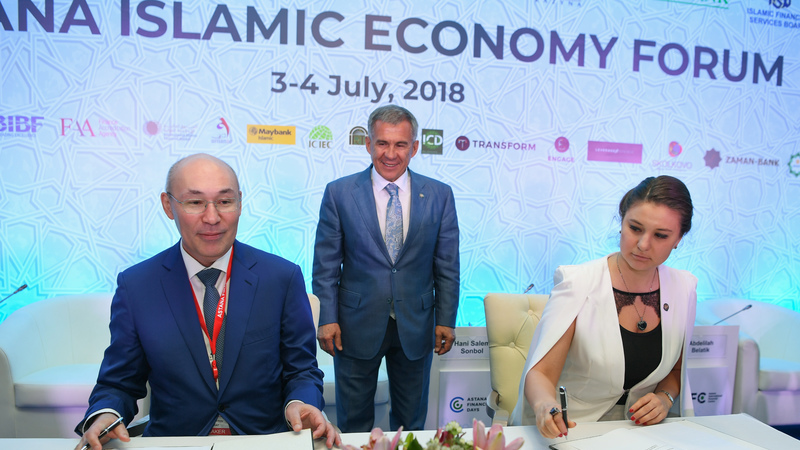 Tatarstan Investment Development Agency and Astana International Finance Center (AIFC) signed an agreement on understanding and cooperation.
Under the terms of cooperation, the parties will assist each other in strategic directions, provide mutual consulting support, exchange information, expert opinion, experience, participate in joint projects.
The Head of Tatarstan Investment Development Agency Taliya Minullina and the Governor of AIFC Kairat Kelimbetov have signed the document.
On July 5, the official opening of Astana International Finance Center was held.
"The Republic of Tatarstan is a pilot region for the introduction of Islamic banking. We actively study the experience of foreign colleagues in the organization of using this tool for attracting foreign investment. The cooperation with AIFC will help us to learn the practical application of Islamic finance and would be a great assistance in our work on creation of the Center of Islamic Economy.
In addition, we are interested in learning experience of use of EXPO-2017 space, while we hold the world championships of skills WorldSkills 2019 in Kazan Expo complex which is under construction for this event. I believe, this conscious decision of Kazakh authorities on filling the huge complex Expo-2017 with tenants will provide us with lots of ideas on planning the work of our exhibition center", - Taliya Minullina noted.
The aim of the agreement is to expand and strengthen cooperation, as well as exchange information in accordance with the credentials of parties and on topics that are relevant to attracting investment, such as: investment environment, measures on improvement of the investment attractiveness, development of Islamic finance and Halal industries,
as well as human capital.