30.09.2019
Taliya Minullina establishes new partnership with China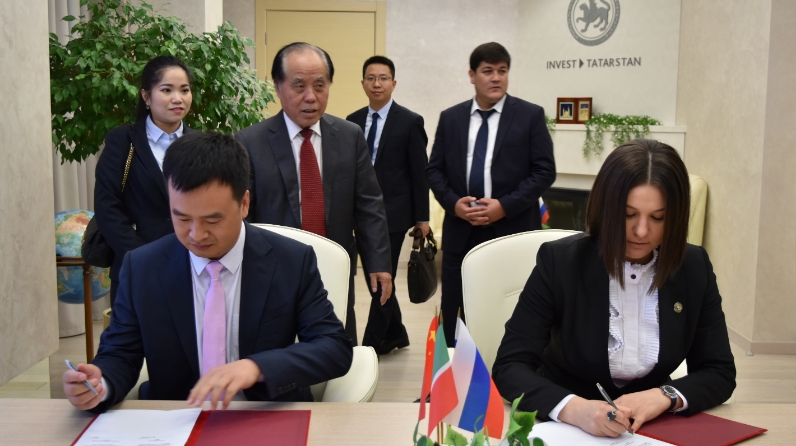 Diplomatic relations between Russia and China were established 70 years ago, one the very next day after the People's Republic of China was founded. Regions play an important role in developing these relations. For instance, Tatarstan actively expands links in the sphere of trade, economy and investment. Friendly relations between countries and regions are established everywhere. A large delegation of representatives of the Chinese authorities and business community held negotiations and examined sites for doing business in Tatarstan.
"It is my first visit to the Republic of Tatarstan. I liked everything: the investment environment is very good, the surroundings are beautiful, and you are so hospitable! What is most important – the conditions for investors are excellent!" said Zhang Zimin, the leading expert on construction, at the meeting with Taliya Minullina, the Head of the Tatarstan Investment Development Agency.
"We are glad to welcome you in the Republic of Tatarstan! Traditionally, China is our leading partner! We have strong business relations in many spheres. In Tatarstan you will find everything you need for doing business conveniently and effectively. We are the leaders among the Russian regions in terms of investment climate", said the Head of TIDA.
As a result of negotiations, Taliya Minullina and Zhang Peng – the official representative of an international group of companies in the sphere of construction materials production – signed a Memorandum on Cooperation, aimed at solving the priority tasks of mutual social-economic development. The Memorandum implies steps for assessing the prospects of implementing joint projects in Tatarstan.
"There is a large joint work ahead, which may result in a successful project", concluded Taliya Ilgizovna.