06.08.2019
Distribution of best practices begins with Tatarstan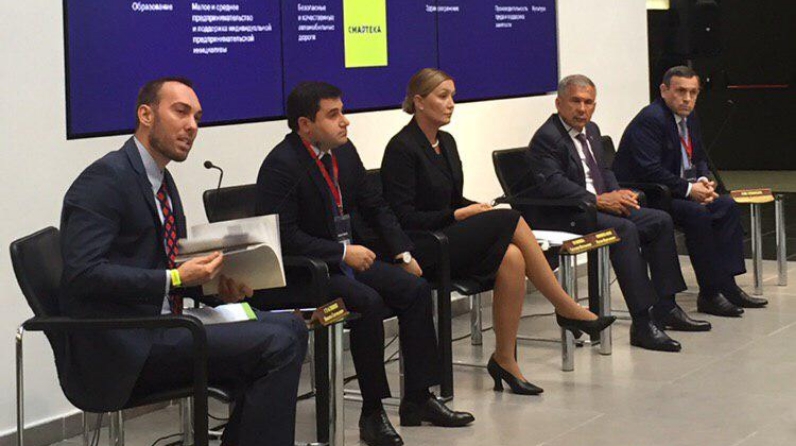 The distribution of the best Russian and foreign practices that may contribute to the achievement of goals and objectives of national projects at the level of the Russian regions was discussed today at the IT Park, the Kazan's high-tech technology park.
The plenary meeting of the first strategic session concerning the Library of Smart Solutions, Smarteka, was attended by the Deputy Minister of Construction, Housing and Utilities of Russia Nikita Stasishin, the President of the Republic of Tatarstan Rustam Minnikhanov, the Head of the Tatarstan Investment Development Agency Taliya Minullina, the Governor of the Samara Region Dmitry Azarov, the Director General of the Agency for Strategic Initiatives Svetlana Chupsheva, and the heads of the republican ministries and departments. Svetlana Chupsheva emphasized that it isn't unjustified that the event is taking place in Tatarstan.
"It is symbolic that for the first time we gathered in Kazan. Each region has its own interesting management decisions, but there are no single valuations for these decisions yet. Colleagues are all interested in such a platform for sharing solutions. The system provides scalability of practices and reduces time and human resources. To remain leaders, you need to move faster. The platform should become a constantly moving mechanism. There are hundreds of thousands of non-digital solutions. Somewhere there are no best practices, and we want to design them together," said Svetlana Chupsheva in her speech.
Until now, only once a year, following the results of the contest for the best social and economic practices, the decisions were selected for "packaging" and distribution. This year, out of five Tatarstan projects that reached the final, three were recognized as winners: the state information system "Social Register of the Population of the Republic of Tatarstan" in the nomination for "Ensuring Accessibility of Services in the Social Sphere"; Open Kazan portal in the nomination for "Creating Conditions Aimed at Increasing the Information Technology Potential of the Region"; Visit Tatarstan, an official tourist brand, in the nomination for "Development of the Tourist Potential of the Region".
Now, everyone may contribute to the translation of effective practices. At the same time, a filtration and mentoring system will be established. It is planned to provide team support at all stages. In the coming days, the participants of the event will have to work out a format for interaction and single standards, and tune the system for the specific needs.
"In the modern world, it is crucial to build up competitive advantages, seek the inspiration from the best and move forward. Tatarstan is always open to regions and its partners. The Tatarstan Investment Development Agency houses the Republic's Single Presentation Center, where the achievements and strategy for the economic development of the republic are presented for government delegations and participants of business missions. Today, digitalization has affected all areas of activity and the joint formation of Smarteka will certainly contribute to the prosperity of our country," said Taliya Minullina, the Head of the Tatarstan Investment Development Agency.